Interview with Steve Ledson, Owner of Ledson Winery & Vineyards
www.ledson.com/
What are your observations and thoughts on the 2016 harvest in general?
There is quite a bit of difference between 2016 and the prior 3 years. More rainfall this past winter set us up for a phenomenal year. This year the growing conditions were ideal, a mild spring, then a short hot spell that pushed the vines along and got things started nicely. This was then followed by cooler days with a couple more short heat spells followed by a cooling trend bringing us the ideal ripening season.
This has allowed the fruit to hang longer and ripen slower even though we are probably a week earlier harvesting in most varietals.  The fruit has been getting phenologically ripe at lower sugars which allows the fruit to develop exciting and intense flavors, broad on the palate, big yet fine tannin structure with nice length. So far (knock on wood) no rain, and none forecasted… only some foggy mornings through our harvesting time.
This is definitely shaping up to be one of the better harvests and vintages for quality and fruit intensity that I have seen in quite some time.  The wines are going to be out of this world. The grapes we have fermented so far are producing some incredible wines.
W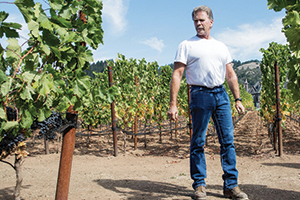 hat differences do you see regarding harvesting different varietals?
Over the last 50 years that I can remember harvesting with my family, there have been big differences in ripening times. This season compared to the average season, I feel that some of our first varietals to be harvested were a week ahead.  Then it seemed to be about average mid-harvest and now with the latest cooling trend, we may be pushed into late October for Cabernets depending on how the weather unfolds.
What are some of the ways you achieve a safe harvest?
Over the years I have noticed what leads to accidents are when people get tired. Every season we seem to have less and less pickers. Therefore, companies try to get their workers to pick longer hours, setting themselves up for accidents. We limit our picking time to 6 hours.  The second biggest cause of accidents is workers that are unfamiliar with the equipment they are operating, especially in mountainous terrain.  It is extremely important that every operator is very familiar and comfortable with the equipment they are operating.  Last but not least, workers need to be familiar with the terrain that they are operating in, especially when it is taking place at night.