Each summer for the last five years, Broadway has come to Sonoma thanks to the Transcendence Theatre Company, which puts on an all-out stage production of iconic show tunes and dance numbers in the open air at Jack London State Park. The rollicking performance is worth building an entire weekend around, because, well, who wouldn't want a little wine and massage with their "Singin' in the Rain" and Fosse-inspired hip rolls? Here are a few itinerary suggestions that deserve the limelight.
HIKE
JACK LONDON STATE HISTORIC PARK
November will bring the centenary of American writer Jack London's death at the tender age of 40. For the last decade of his adventurous life, his home base was Beauty Ranch, preserved as Jack London State Historic Park, a 1,400-acre gem in Glen Ellen that's now operated, thanks to budget cuts, by volunteers of the Valley of the Moon History Association. The park includes London's grave, marked simply by a boulder; two residences-turned-museums; and the ruins of the Wolf House, a 26-room mansion that burned to the ground before London and his wife had a chance to move in. You don't have to be a fan of the Call of the Wild writer to enjoy the trails (try the six-mile, rump-roaster up Sonoma Mountain) or the scenic spots to picnic (tables in Oak Grove require reservations), but if you are, all the better: You'll deeply appreciate Jack's favorite oak tree (which may be felled in the near future due to old age); the "palace" he designed to house his pigs; the desk where he determinedly wrote at least 1,000 words daily; the piano his wife played to cheer him during his darkest moods. Docent tours ($25 per person) are highly recommended (request the ever-knowledgeable Jeff Falconer). Entrance fee is $10 per car, or a five-spot if you're on a bike or hiking in, Klondike-prospector style. // jacklondonpark.com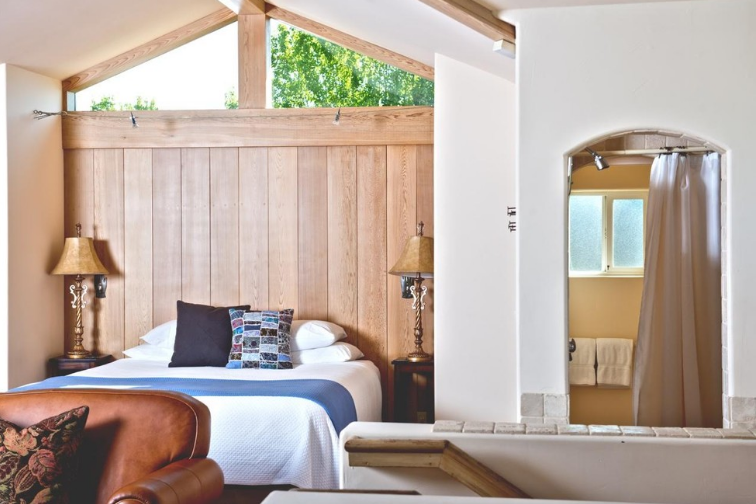 STAY
COTTAGE INN & SPA
Located one block off Sonoma town square, the Cottage Inn & Spa is an elegant and unassuming hideaway for weekenders. The intimate Mission-style property includes just nine charming suites, with terracotta-hued floors, arched barn doors, kitchens (stocked with fruit, cereal, coffee, tea, milk, and fresh juice), and fireplaces (lit with votive candles for romantic ambiance only—presumably you and your partner build your own heat). Some suites come with private patios, but if yours doesn't, make your way to the cozy Paradisio courtyard between 6pm and 10pm for highly atmospheric fireside mingling. In the morning, baskets of fresh-baked pains au chocolats and blueberry muffins (or their pastry counterparts) are left hanging on your door, and even though you learn of this lovely gesture during the brief welcome orientation, you're still a little giddy when it happens. Spend a day wine tasting in the Sonoma Valley—the inn provides a "passport" for free tastings at more than 20 wineries, including Benziger and Kunde. But be sure to save the Swedish aromatherapy massage at the inn's small (read: one-room) spa as a post-hangover indulgence, because—cue Wine Country PSA—even though such a tranquil, restorative treatment might seem to benefit from a little muscle-loosening ambrosia, deep kneading could actually make you tipsier. // 310 1st St. E (Sonoma), cottageinnandspa.com
FAIRMONT SONOMA MISSION INN
Check in for the night at the Fairmont Sonoma Mission Inn, where the suites are appointed with beds of the four-poster variety, wood-burning fireplaces, and deep, jetted tubs. A seduction scene in the making, if ever there were one. The property's lap-length pool exists at the foot of a looming old water tower, which is both confusing and quirky. The temperature of the drink is bordering on bathwater, making those ambitious plans to swim 20 laps in the morning chill a less intimidating prospect. By noon, expect the lounge chairs to be occupied with scantily-clad sun worshippers, Arnold Palmers in one hand, gossip rags in the other, and the shadow of the looming old water tower moving slowly across their bodies as the day ticks on. // 100 Boyes Blvd. (Sonoma), fairmont.com/sonoma
EAT + DRINK
THE KENWOOD RESTAURANT AND BAR
On an oppressively sweltering day in the Sonoma Valley, the shady patio at the Kenwood Restaurant can be a nice place for cool iced tea and some decent eats from an eager new executive chef who is clearly drinking the local Kool-Aid: He's trying like mad to source everything from within 50 miles, and yet he drops at our table a delectable cast-iron pan of grits from an obscure mill located somewhere in the confederacy, topped with spicy prawns from the Gulf of Mexico. Brief tangents from the house philosophy notwithstanding, the sincerity behind each dish is apparent, and the food is A-OK: A melon-basil salad with peach vinaigrette was refreshing, but could have used a light sprinkling of mint chiffonade. A thick pork chop was grilled to a perfect medium and topped with a deeply flavorful fresh-cherry sauce, but the accompaniment of honey grits (yes, more grits—this guy really likes his cornmeal) added one sweet layer too many to the dish. Since entrée portions are hardly skimpy, finish the meal on a light note with a scoop of silky buffalo-milk gelato from Double 8 Dairy in Petaluma. // 9900 Sonoma Hwy. (Kenwood),kenwoodrestaurant.com
THE GIRL AND THE FIG
The garden-fresh California bistro fare sufficiently restores the calorie burn from the hike. As expected, figs are vital to the menu, from the fig and arugula salad flecked with salty bacon to the fig shrub, a O% ABV fizz with a refreshing sour note. The steak frites was one of the best this meat-and-potatoes connoisseur has ever devoured, an accolade I don't bestow lightly, but in this case is well deserved due to the singular achievement of a perfectly mid-rare steak (the generous heap of crisp matchstick fries didn't hurt either). We ended our meal with a thick slice of zucchini bread studded with chocolate chunks, a delicious way to put the summer's usual abundance of squash to good use. Even if dessert seems too much to bear given the binge, the fig kisses—chocolate-dipped figs naturally shaped like a certain foil-wrapped candy-store confection—that come with the check are just sweet enough to put the finishing touch on the feast. // 110 W Spain St. (Sonoma), thegirlandthefig.com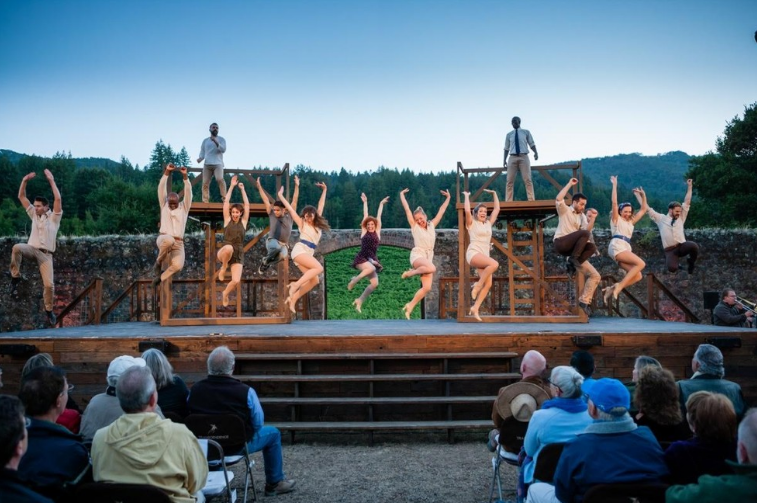 TO-DO
BROADWAY UNDER THE STARS
Two years ago, when I last reviewed this unique summer show, staged in the winery ruins at Jack London State Park by the Transcendence Theatre Company, I was so overwhelmed by the experience—the razzle-dazzle song and dance routines tapped right into my secret dream of being a Broadway star—that I actually felt my face contort into what is widely regarded as the "ugly cry." A finale recreating the last scene in Dirty Dancing (well, everything that happened after the iconic line, "No one puts Baby in a corner") will do that to a late Gen-Xer such as myself. The company, which now includes more than 60 traveling performers from such Broadway shows as West Side Story and Les Miz, donates $5 of each ticket to the de-funded state park, for a total so far of nearly $220,000. While my first experience will always be the most special, this one, called Dance the Night Away, was certainly no slouch, with toe-tapping numbers that included "Singin' in the Rain," "I Will Survive," "Alexander Hamilton" (a hysterical performance delivered by a skilled comedienne in a Liza Minnelli wig), and a finale of Michael Jackson's greatest hits that had the audience awkwardly shimmying in their seats and mumbling the words—the truest sign of success for a show like this. (Side note: A few country-music performances, including Garth Brooks' "Shameless," featuring age-old stereotypes—a conflicted, lip-trembling woman who leaps into the arms of a chest-pounding man as often as she wraps her legs around his waist—were, for me, too soapy, even by Broadway standards.) The last performances take place this weekend, and while Saturday is sold out, there are a few VIP spots left for Sunday, August 21. Come as early as 5 p.m. to enjoy live music and picnicking—various food trucks, including the Girl and the Fig's Fig Rig, sell everything from fried-chicken sliders to charcuterie-and-cheese plates, and wineries such as Benziger and Chateau St. Jean booth-up for your swigging pleasure. Even if you miss the last productions of the summer, you can look forward to the company's highly acclaimed holiday show, Joy to the World, which will take place Dec. 2–4 at the Luther Burbank Center in Santa Rosa. // transcendencetheatre.org
Let us help you find Sonoma Valley...