Established in 1983, NTTW is an annual salute to travel in America
Sonoma, CA – Sonoma Valley Visitors Bureau joins with thousands of other local communities and organizations in marking National Travel and Tourism Week, May 5 through 11, 2019.
This year, the travel industry is coming together to celebrate why "Travel Matters," spotlighting a different way travel matters each day to American jobs, economic growth and personal well-being.
According to a study by Tourism Economics, travel matters a great deal to the Sonoma Valley, where the hospitality community is responsible for one in six jobs in the region and generates just over $60 million in tax revenues.
"Hospitality is one of the main drivers of the Sonoma Valley economy," said Tim Zahner, Executive Director of Sonoma Valley Visitors Bureau. "It is also a home-grown industry with deep roots going back well over a century."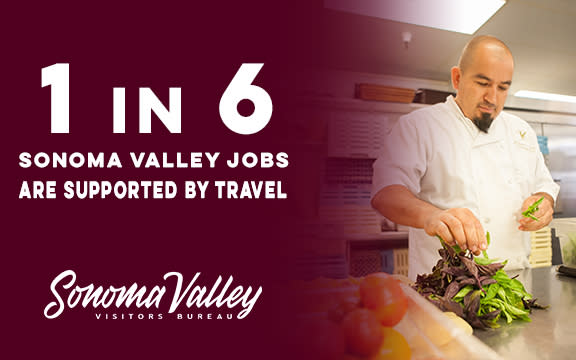 National Travel and Tourism Week will have seven themes, one for each day of the week:
SUNDAY: Travel matters to the economy. Travel generated $2.5 trillion for the U.S. economy in 2018 across all U.S. industries.
In the City of Sonoma, more than 50% of the city's general fund revenue comes from direct tourism taxes in the form of hotel tax (transient occupancy tax) and sales taxes. Additional city tax revenue comes from business and property taxes paid by tourism businesses. (Source: City of Sonoma, FY 17-18 Adopted Budget.)
MONDAY: Travel matters to new experiences. From national parks to our diverse cities and our scenic small towns, travel is uniquely made in America. In Sonoma, travelers often first encounter wine country cuisine that is noted by fresh, seasonal produce and a unique stewardship for the land, as well as the chance to experience the unique Northern California culture that makes Sonoma special.
TUESDAY: Travel matters to our jobs. In the United States, travel accounts for one in ten jobs. In Sonoma Valley specifically, it is one in six jobs.
WEDNESDAY: Travel matters to keeping America connected. The more we travel and meet our fellow Americans and connect with them on a personal level, the more likely we are to have a more favorable opinion of them and see beyond our own stereotypes of others.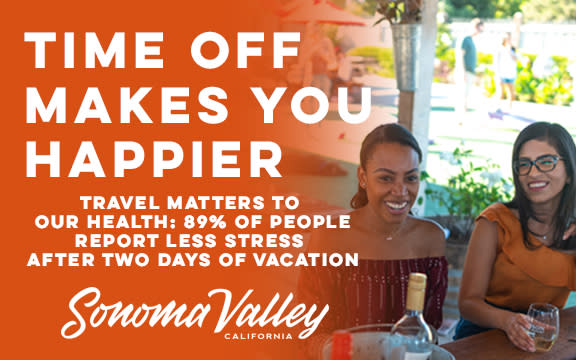 THURSDAY: Travel matters to health. Those who take all or most of their vacation time to travel report higher rates of happiness with physical health and well-being compared to those who don't travel as much.
FRIDAY: Travel matters to hometown pride. Over half of all leisure travel in the U.S. is to visit family and friends, making residents a community's best tourism ambassador.
SATURDAY: Travel matters to families. Travel helps families connect, creating everlasting memories and develop a lifelong bond.  When surveyed, most children (61%) say the best way to spend quality time with parents is on vacation.
In Sonoma County, the travel industry is overwhelmingly represented by tourism businesses that are locally-owned, small businesses. More than 75 percent of tourism businesses employ fewer than 25 people, and 85 percent are locally owned.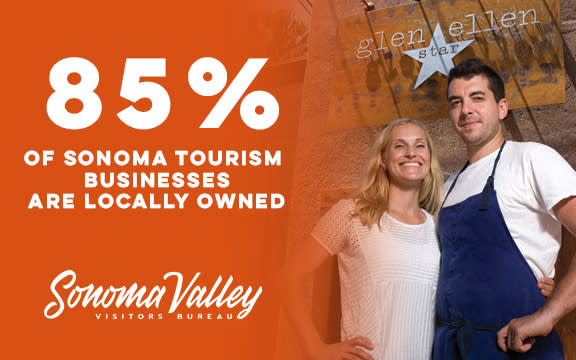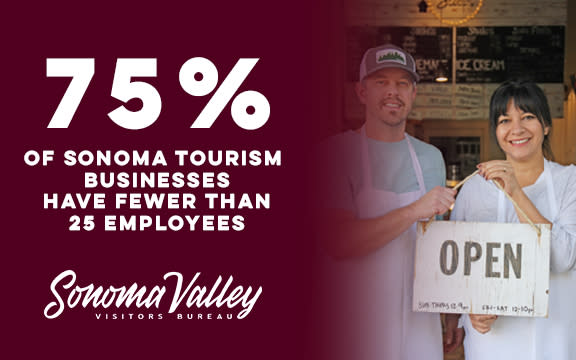 ###
About the Sonoma Valley Visitors Bureau
The Sonoma Valley Visitors Bureau is the region's destination marketing organization representing more than 350 hospitality-related businesses and promotes the local hospitality industry to visitors, residents, and travel media.
The Bureau operates two visitor centers, which are open year-round, as well as marketing, public relations and social media programs to encourage visitation to Sonoma Valley.
The organization is a 501(c)6 non-profit run by a volunteer board of directors.
More information about Sonoma Valley can be found at www.sonomavalley.com