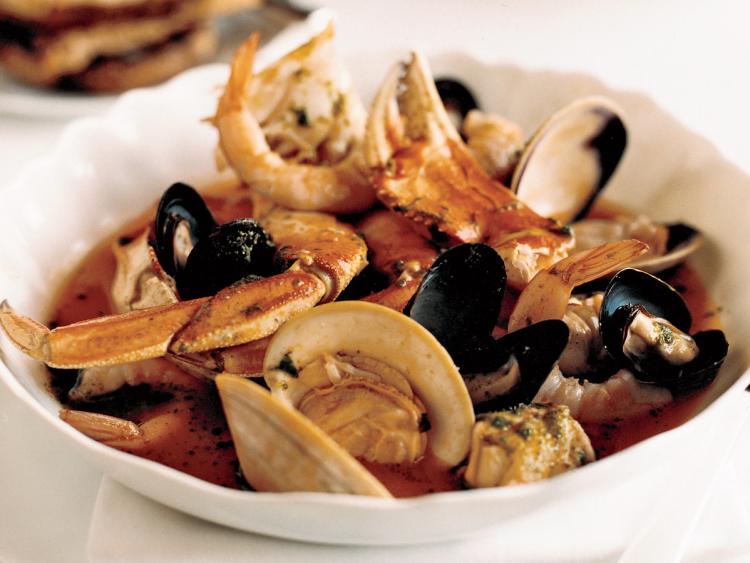 Recipe submitted by Eric Markson, Sonoma Valley Inn
In Sonoma, the holiday season means fresh Dungeness Crab enjoyed by friends and family in Cioppino on Christmas Eve, New Year's Eve or both. It's always great to have at that busy time of the year, when some show up early, others late (you know who you are) and they are greeted with a Seafood feast in a bowl of delicious.
Enjoy!!
Step 1. Crack and clean 3 large fresh Dungeness Crabs, removing the lump meat from the body-saving for later. Scrub clams, devein prawns and shrimp, cut fish in to 1 1/2-inch pieces
Step 2. Prep-Onion, peppers, garlic, celery, carrots, open wine and pour yourself a glass-always cook with what you like to drink.
Step 3. In a large pot, heat the oil over medium heat add the carrots, onions, peppers, and celery, and sauté until tender, about 5 minutes. Add the garlic and seasonings cook until fragrant. Add the wine, vinegar and reduce. Add the tomatoes, tomato sauce, chicken stock, basil and parsley bring to a boil, reduce to a simmer and cook for 45 minutes, stirring occasionally.
Step 4. Add Dungeness Crab legs and claws, keep at a low simmer for 20 minutes, keep stirring
Step 5. Increase heat to medium add the fresh fish, minced clams, clams, lump meat crab, cover and cook for 5 minutes stir, add pawns and shrimp and cover and cook for 2 to 3 minutes more, remove from heat and serve with Sonoma Sourdough bread.
Seafood:
3 whole Dungeness Crabs
18 live local Clams,
2 cans minced Clams in juice
1 1/2 pounds fresh Sea Bass, Snapper or other firm fish, cut into 1 1/2-inch pieces
12 peeled and deveined prawns
1-pound small shrimp- fresh or frozen defrosted
Cioppino Base:
1/4 cup olive oil
1 carrot, chopped
1 medium yellow onion, chopped
1 green bell pepper, chopped
2 ribs celery, chopped
5 cloves garlic, chopped
1 medium Jalapeno sliced
1/2 bunch fresh basil, chopped
1/2 bunch fresh flat leaf Parsley, chopped
1/2 teaspoon fennel seeds
1 teaspoon dried Oregano
1 teaspoon cracked black pepper
1 bay leaf
1/2 bottle Sonoma Valley Zinfandel
2 teaspoons red wine vinegar
24 oz Chicken Stock-more if needed
1 teaspoon hot sauce
1 8oz can tomato sauce
1 14oz can diced tomatoes
1 28oz can whole tomatoes,