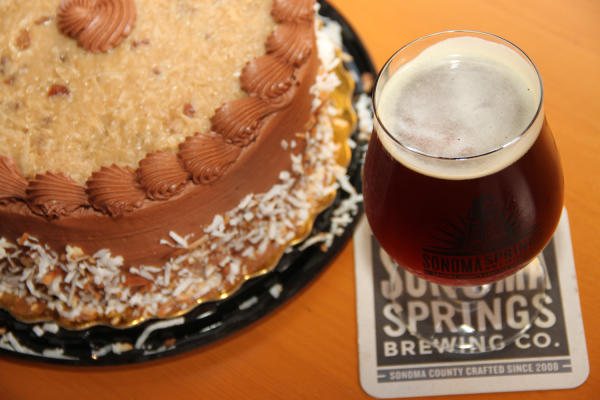 Beer: Sonoma Springs Smooth Operator
Style: Doppelbock
ABV – 7% and IBU – 23
Serve in Tulip glass at 45-50 °F
"Doppel" meaning "double," this style is a bigger and stronger version of the lower-gravity German-style bock beers. This style is very food-friendly and sometimes reminiscent of toasted bread. Color is copper to dark brown. Malty sweetness is dominant but should not be too heavy. Malt character is more reminiscent of fresh and lightly toasted Munich-style malt, more so than caramel or toffee malt. Doppelbocks are full-bodied, and alcoholic strength is on the higher end. Our Smooth Operator has hints of caramel and molasses.  
We recommend pairing this with a German Chocolate Cake! Be sure to make this and drink the beer in good company, and see the recipe below.
Ready In: 1 hour (30 min prep, 30 min cook)
Ingredients
1/2 cup water
4 (1 ounce) squares German sweet chocolate
1 cup butter, softened
2 cups white sugar
4 egg yolks
1 teaspoon vanilla extract
1 cup buttermilk
2 1/2 cups cake flour
1 teaspoon baking soda
1/2 teaspoon salt
4 egg whites
1 cup white sugar
1 cup evaporated milk
1/2 cup butter
3 egg yolks, beaten
1 1/3 cups flaked coconut
1 cup chopped pecans
1 teaspoon vanilla extract
1/2 teaspoon shortening
1 (1 ounce) square semisweet chocolate
Directions
Preheat oven to 350 degrees F (175 degrees C). Grease and flour 3 - 9 inch round pans. Sift together the flour, baking soda and salt. Set aside. In a small saucepan, heat water and 4 ounces chocolate until melted. Remove from heat and allow to cool.
In a large bowl, cream 1 cup butter and 2 cups sugar until light and fluffy. Beat in 4 egg yolks one at a time. Blend in the melted chocolate mixture and vanilla. Beat in the flour mixture alternately with the buttermilk, mixing just until incorporated.
In a large glass or metal mixing bowl, beat egg whites until stiff peaks form. Fold 1/3 of the whites into the batter, then quickly fold in remaining whites until no streaks remain.
Pour into 3 - 9 inch pans Bake in the preheated oven for 30 minutes, or until a toothpick inserted into the center of the cake comes out clean. Allow to cool for 10 minutes in the pan, then turn out onto wire rack.
To make the Filling: In a saucepan combine 1 cup sugar, evaporated milk, 1/2 cup butter, and 3 egg yolks. Cook over low heat, stirring constantly until thickened. Remove from heat. Stir in coconut, pecans and vanilla. Cool until thick enough to spread.
Spread filling between layers and on top of cake. In a small saucepan, melt shortening and 1 ounce of chocolate. Stir until smooth and drizzle down the sides of the cake.
Enjoy with friends and a pint of Sonoma Springs Doppelbock beer!