Bring Sonoma Valley to your Thanksgiving celebration, whether virtual or otherwise
Thanksgiving is going to be different this year. If you can't be with your favorite people in your favorite place this Thanksgiving, why not bring that place to you? It's easy to bring Sonoma Valley to your holiday table with some wine, recipes and a bit of Zoom this year. Plus, you can always send Sonoma to your family and friends in far-flung places and hoping that next year you will be together again. 
Read on for some ideas on how to make the best of a virtual Thanksgiving - a "Zoomsgiving" if you'll pardon the term.
1) Get your favorite local dishes for take-out
One year our brother-in-law cooked a forty-six pound turkey, and the poor guy was eating turkey sandwiches, tetrazinni and turkey pot pies until it was time for Easter ham. This year with smaller groups and quarantines we need to think small, and in that case, it might mean letting someone else do the cooking. This year order a smaller Thanksgiving from some of our favorite Sonoma Valley restaurants:
Depot Hotel
241 1st Street W,
Sonoma, CA 95476

A Sonoma classic brings rustic Italian to your American holiday
Four course menu includes choice of turkey, salmon, ravioli or pork chops
Order by 5:00 PM on Friday, October 20
www.depotsonoma.com/thanksgiving
Glen Ellen Star
13648 Arnold Dr,
Glen Ellen, CA 95442
(707) 343-1384
glenellenstar.com

Chicory salad, whole spatchcock Willy Bird turkey & gravy buttermilk mashed potatoes  Dessert: Pumpkin pie Vanilla Maple Bourbon ice cream
Pre-order using the glenellenstar.com
Epicurean Connection
19670 8th St E,
Sonoma, CA 95476
(707) 235-9530
www.theepicureanconnection.com
Sheana Davis and Ben Sessions have been feeding Sonoma Valley families for years and this year they are bringing you Thanksgiving treats.
Offering cheese and charcuterie platters, cheeses to go, chef made cranberry cinnamon orange relish, roasted winter vegetables, roasted butternut squash soup and many sides for your Thanksgiving at home.
2) Set your table right
Jenne Wicht of Sonoma-based design and homegoods shop advises that this is the year you can have a little bit of fun with Thanksgiving. With fewer guests you can splurge on some fun new glasses and decorate with some fresh plants from the yard. Her tips include - add a bit of greenery, inject a bit of whimsy, and illuminate with some candles and cheer.
 
3) Mute that one uncle.
Yeah, we know. It's Thanksgiving and all. But if anyone starts to get a bit obnoxious, this is the one year you can use that mute button. Inadvertently, of course.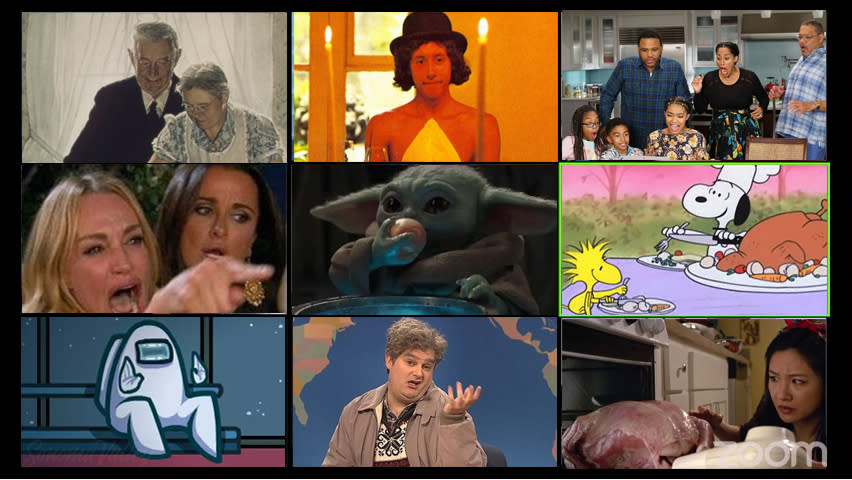 4) Put some Sonoma Valley wine on the table
Sonoma Valley has a tradition of family wineries, and just so happens to make some of the best in the world. Many favorites can be shipped to you in time for the holidays. Benziger Family Winery and Imagery Estate Winery are offering their 45-minute Holiday Virtual Private Tasting with Jill Benziger. From the comfort of your home you can join Jill to taste three wines from your choice of winery. The wines will be shipped to your home prior to the tasting event. Don't worry if you are still in your sweats when you're tasting these wine - Jill is remarkably laid-back and fun to taste with.
Highway 12 Winery owner Paul Giusto is partial to a San Francisco-inspired Cioppino, a classic seafood dish in Northern California around the holidays. 
They also suggest pairing your traditional turkey dinner with the 2019 Highway 12 Sauvignon Blanc or the 2015 Highway 12 Reserve Cabernet Franc or 2016 Highway 12 Reserve Syrah. All of which can be ordered in advance of your family's feast.
If you can't order wine in time, you can always visit your local wine shop and get some there. Just make sure it has "Sonoma Valley" on the label. 
5) Cocktails 
One word: cocktails. Small group means you can make some fancier drinks, and the punch bowl gives way to the cocktail shaker.
A Pumpkin Spice Old Fashioned (recipe below) is a nice way to capture the season and spread some cheer. Prohibition Spirits' seasonal Pumpkin Spice Brandy Liqueur is a great addition to their lineup of small batch, artisan spirits. Bottles can be shipped to your door in time to help you get ready for the family Zoom Thanksgiving call. And don't forget Hanson of Sonoma's organic Boysenberry Vodka is only made once a year and is available now until it is gone. The sweet and tart berry flavor and bright pink color make it perfect for a holiday toast (recipe below).
So now, ready for Zoomsgiving?
Recipes
Pumpkin Spice Old Fashioned (courtesy Prohibition Spirits)
- 2 oz Prohibition Spirits Pumpkin Spice Brandy Liqueur
- 2 dashes of Bitter Brothers Aromatic Bitters
- 1 orange slice
- 1 dash of club soda (optional)
- Cinnamon stick
In a rocks glass, muddle orange slice and bitters. And Brandy Liqueur and ice (preferably an oversized cube) and stir well. Optional splash of club soda should be lightly stirred into cocktail. Garnish with cinnamon stick and enjoy!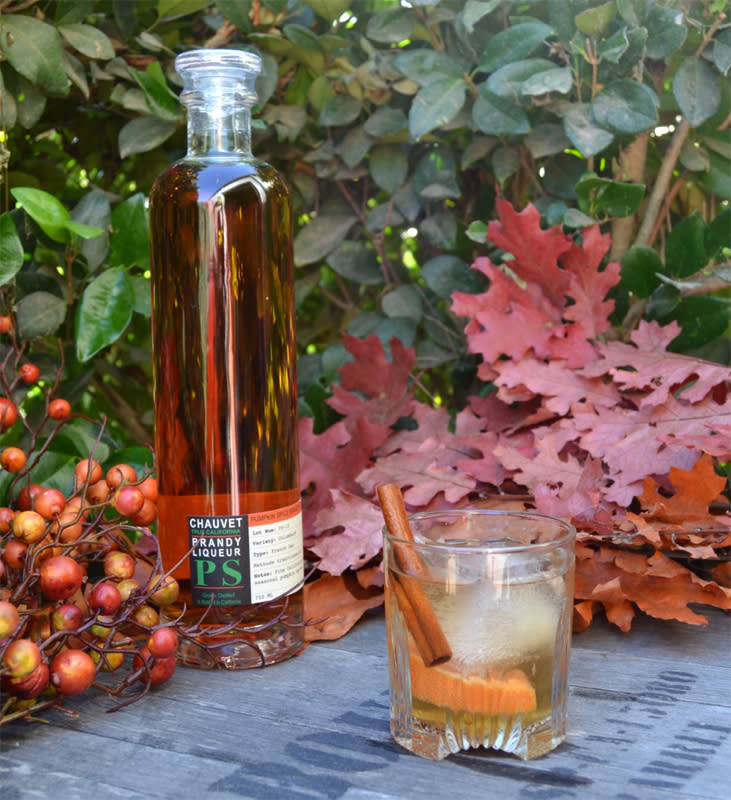 Hanson Pomegranate Fizz (courtesy Hanson of Sonoma)
- 2 oz Hanson Organic Boysenberry Vodka
- 1 oz Pomegranate Juice
- 3/4 oz Simple Syrup
- Top with Rose
- Fresh Pomegranates
Pour Hanson Vodka, Simple Syrup and Pomegranate Juice into a shaker and fill with ice. Shake and strain into a flute glass. Top with Rose and fresh Pomegranates.
Nonno's Traditional SF Cioppino (courtesy Highway 12 Wines)
- 1/2 cup butter
- 1 tablespoon olive oil
- 1 onion, chopped
- 1 fennel bulb, thinly sliced
- 4 cloves garlic, minced
- 1/2 bunch fresh parsley, chopped
- 1 tablespoon dried basil
- 1 teaspoon kosher salt
-  1/2 teaspoon dried thyme
- 1/2 teaspoon dried oregano
- 1/2 teaspoon crushed red pepper flakes
- 1 1/2 cups white wine (optional - can replace with additional fish or chicken stock)
- 1 (28 ounce) can crushed tomatoes
- 1 (14.5 ounce) can diced tomatoes
- 5 cups fish or seafood stock*
- 2 bay leaves
- 1 pound small clams
- 1 pound mussels, scrubbed and de-bearded
- 2 pounds crab (we used 1 whole cooked Dungeness crab, with its legs removed from its body)
- 1 pound uncooked large shrimp, peeled and deveined
- 1 pound bay scallops
- 1/2 pound cod fillet, cut into large chunks (or other firm-fleshed fish like halibut)
- Fresh basil and parsley, chopped, for garnish
Heat the butter and olive oil over medium heat in a large stock pot, then add the onion, fennel, garlic, parsley, sauteing until the onions are soft, about 10 minutes.  Add the garlic, basil, salt, thyme, oregano, and red pepper flakes and sauté 2 minutes longer.
Add the white wine, crushed and diced tomatoes, fish stock, and bay leaves, then cover and reduce the heat to medium-low.  Simmer for 30 minutes so the flavors can blend.  While the sauce simmers, prepare the crab by removing the crab legs from the body (if not already done for you) and using a nutcracker to crack the shells (leave the meat in the shell) so that the meat can be easily removed once the cioppino is served.
Increase the heat to medium and add the clams and mussels to the broth and cook for 5 minutes until they start to open.  Then add the crab legs and cook for another minute, followed by the shrimp and scallops.  Finally, lay the chunks of cod on top of the broth and cover and cook for 3-5 minutes until the mussels and clams are open, the shrimp curl and the scallops are just firm.
Ladle the cioppino into large bowls garnish with chopped fresh parsley and basil.  Serve with warm, crusty sourdough bread!  Have plenty of napkins, extra bowls for shells, and nutcrackers and tiny forks on hand for the crab. 
NOTE: * You can replace all or part of the fish or seafood stock with the same amount of chicken or vegetable stock along with a small bottle of clam juice instead.