Give Your Business a Boost
Sonoma Valley Visitors Bureau is proud to partner again with Sonoma Magazine to produce the 2023-2024 Visitors Guide!
The Sonoma Visitors Guide, a four-color, professionally produced magazine, inspires visitors and showcases the Sonoma Valley lifestyle. With engaging photos, rich content and educational maps and infographics, visitors get a first-hand look at Sonoma Valley, with focus on the valley's local businesses.
Our guides (50,000 copies) will be distributed nationwide (and internationally!) and to travelers, meetings planners, travel agents and wedding planners. This is not a digital-only guide. It exists in the real world, to really show off your business.

We also make it available online.
FEATURES:
ENGAGING, TIMELESS CONTENT: these educational pieces include topics like Wine Tasting Etiquette 101, How to Navigate the Farmer's Market, or Field Guide to the Outdoors.
INFOGRAPHICS explain larger topics through the use of creative graphics and educate travelers about Sonoma Valley.
MAPS direct readers how to best navigate Sonoma Valley. Wineries, parks, towns and points of interest will guide visitors.
Quality printed materials make powerful impressions, and research shows that a printed visitor guide helps drive visitation. Created with thoughtful content and engaging photography, the Sonoma Valley Visitors Guide is a great way to showcase the personality and purpose of your business, with a wide-range of marketing and advertisement offerings to fit your needs and budget. According to industry research on visitors guides:
85% of travelers were influenced to visit after reading a visitor guide
Readers retain information from actual, tactile visitors guides: 90% of readers remembered reading them in hand vs. online readers at 67%
The ROI for every guide distributed was $48:1 in destination spending
DOWNLOAD THE MEDIA KIT TO LEARN MORE
Click on the image below to download your media kit, learn more about ad strategy and find the best pricing for your budget! Pro tip: decide sooner than later to enjoy discounted rates.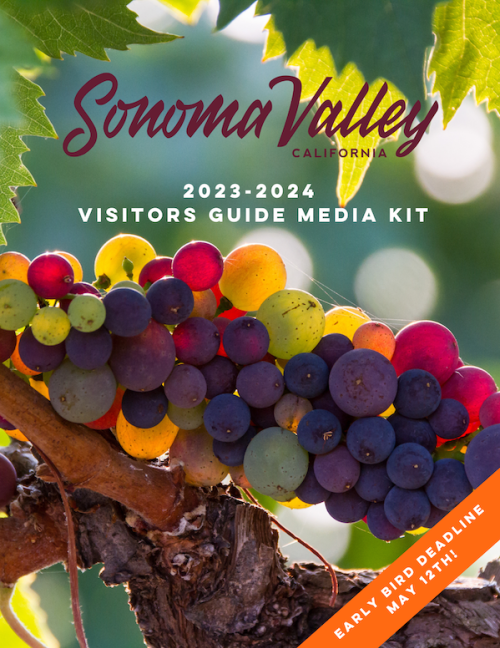 Reserve Your Spot in the Visitors Guide Now
Fill out the form below or contact Lori Varsames, Marketing & Partnerships, at:
lori@sonomavalley.com
(510) 872-2827