Seven Ways to Enjoy the Sun in SUNoma Valley
We all love Karl the Fog, that bringer of cool to San Francisco, who makes a summer appearance in June, July and August. Looking for a break?  Head 45 miles north from San Francisco to Sonoma Valley to enjoy sunshine with hikes, bike riding, and outdoor dining.
Here are 7 ways to enjoy the sun in Sonoma:
Hike: Put on your sunscreen and enjoy the views of the lower Sonoma Valley on the Overlook Trail, just a short walk from the Sonoma Plaza. This hike is great for beginners and is about 3 miles long. If you're looking for a more intense hike, try the 5.6 mile hike up Bald Mountain at Sugarloaf Ridge State Park. Add a bit of fun to your hike and wine tour with Active Wine Adventures. You'll take a hike and end your tour with a picnic and wine tasting.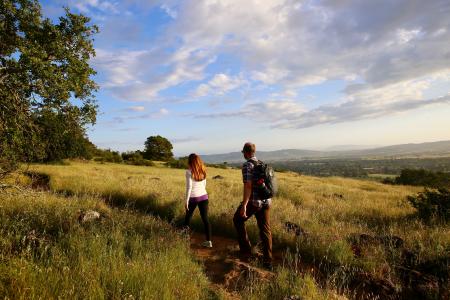 Eat: Dine al fresco and in the sunshine on an outdoor patios. For a mouthwatering breakfast we suggest Sunflower Caffe with seating in the front (views of the Plaza) and back (quaint country garden) of the restaurant. In a hurry? Grab a pastry at Basque Boulangerie Cafe and sit with the early-morning crew of locals and visitors as they prepare for the day.
It may not be under a Tuscan sun, but you can get Italian in the Sonoma sun at Della Santina's or Depot Hotel. For handcrafted pizzas, head to Red Grape and sit on their ivy covered outdoor patio.
When it's time for dinner enjoy people watching on the front patio at Swiss Hotel or Nepalese and Indian cuisine in the secret alley at Taste of the Himalayas.
Other notable restaurants with outdoor seating: Public Kitchen (at Cornerstone Gardens), Sonoma Grille, and El Dorado Kitchen.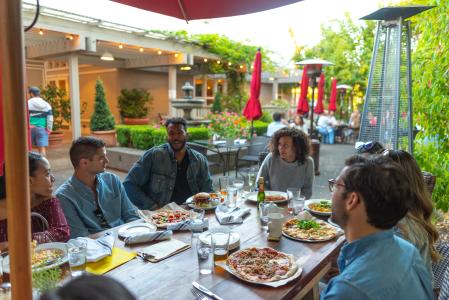 Sip: Walk around the sunny grounds of Hanson of Sonoma Distillery while sipping on a handcrafted vodka drink or take a cocktail class at Prohibition Spirits Distillery at the entrance of Cornerstone Sonoma. Head across the highway to Gloria Ferrer to enjoy sparkling wines on the large terrace overlooking acres of vineyards. And for a cold beer on tap, sit on the patio at HopMonk Tavern or Murphy's Irish Pub.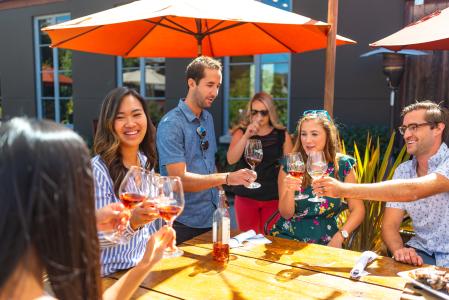 Swim: Hotels in the Valley have spectacular pools to soak up the rays. The Lodge at Sonoma Renaissance Resort & Spa has a large pool with two-person lounge chairs, cabanas, and a whirlpool. Across town, the Fairmont Sonoma Mission Inn & Spa's pool features a cafe, bar, and, in the evenings, an outdoor fire pit.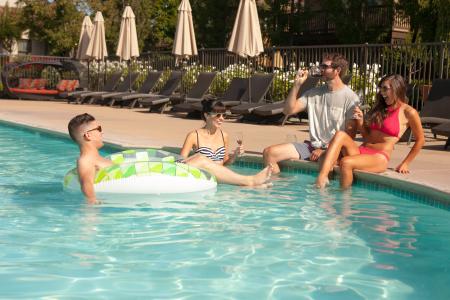 Taste: Sonoma has three Farmers Markets to visit, all of which can be enjoyed under clear skies. From May to September the Tuesday night market on the Sonoma Plaza is THE SCENE with food trucks, live music, happy locals and some farmers. Every Friday year-round, the morning market in the parking lot of Arnold Field has farmers from Sonoma Valley and further afield selling fruits, vegetables, honey, prepared foods, coffee, and pastries. Saturdays in spring, summer and fall means the market at Sonoma Garden Park is open in a unique permaculture garden just outside the city limits. And on Sundays from June to December the plaza on Boyes Boulevard is the site of the Spring's Community Farmers' Market.
Missed the markets and still need a snack? Nibble on sausage, cheese, and olives with a sausage charcuterie plate at Hare & Hatter Sausage Emporium in El Paseo Courtshops right off the Plaza.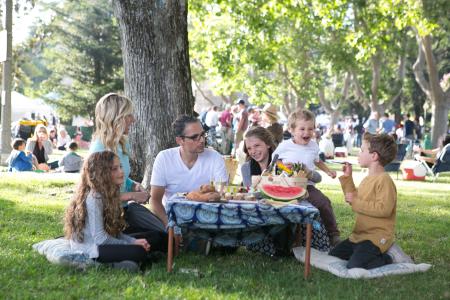 Bike: There are several bike companies available in Sonoma whether you're wanting a guided tour or to explore on your own. Sonoma Adventures on Broadway offer bike, e-bike and Segway tours and rentals. Right off the plaza, Wine Country Cyclery has bike rentals with options such as electric bikes and tandem bikes. Blazing Saddles Sonoma has guided tours that stop at local wineries for a day of biking and wine tasting.
If you've rented a bike or brought your own, don't forget to ride on the Sonoma Bike Path, a 1.5 mile trail going from Maxwell Farms Regional Park to 4th St. East. On the trail stop at Depot Park Museum and General Vallejo's home for lessons on Sonoma's history.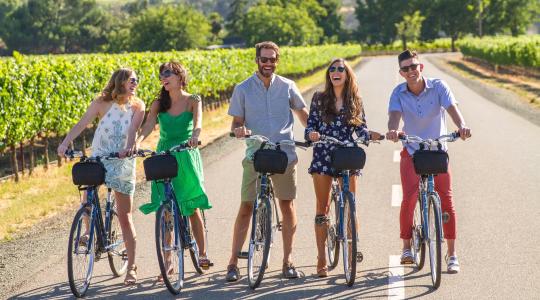 Watch: Visit a Sonoma Stompers game at Arnold Field for baseball, fun with locals, and, of course, sun! Or, head over to Sonoma Raceway to enjoy the day in the grandstands. And if you're looking for music and dancing, then check out the Annual City Party on the Sonoma Plaza, Huichica Festival at Gundlach Bundschu, the Harvest Music Festival at B.R. Cohn Winery or one of the many music events throughout the valley.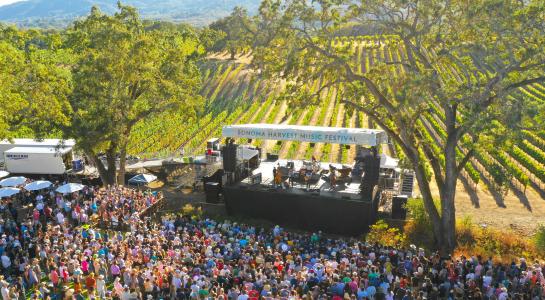 For special offers and deals on places to stay in Sonoma - check out SonomaValley.com/deals for the latest.