Fresh Green Sonoma: From Local Organics to Earth-Friendly Activities
Local Organics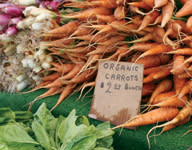 Savor the sustainable future of Wine Country. Bite into a crisp good cause and support the growing movement to produce our Valley's bounty in its purest form, employ environmentally responsible practices and reduce waste and pollution. Grapes free of pesticides. Biodegradable containers at cafés and markets. Solar powered wineries. Composting programs at luxury hotels. From restaurants that "buy local" to green builders, everybody is doing something to preserve our land, our way of life and our community.
Eco-Tourism Destination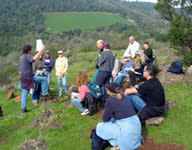 Tread softly, play hard. Get back to nature with countless green adventures that respect the environment and reveal a wild Sonoma Valley like you've never seen it before. Our Valley boasts a long history of thinking green, from biodynamic viticultural vanguards to author Jack London, who ran his Beauty Ranch upon the principles of organic farming. Today you can bicycle to the farmer's market and beyond, tour sustainable wineries, learn about spring wildflowers on a hike with a local naturalist, watch egrets fish as you kayak through wetlands or take an organic gardening class. In Sonoma Valley, eco-tourism is as easy as it is extraordinary.
Recharge your car in Wine Country!
Sonoma Valley prides itself on being sustainable and offering our guests the opportunity to recharge their electric vehicles at various locations throughout wine country. View all listings here. 
Charging station locations include:
Green Resources
Agricultural Preservation and Open Space District
The Sonoma County Agricultural Preservation and Open Space District permanently protects the diverse agricultural, natural resource, and scenic open space lands of Sonoma County for future generations. 707-565-7360
www.sonomaopenspace.org
Farm Trails
Sonoma County Farm Trails supports sustainable agricultural diversity in Sonoma County through the promotion of its members to ensure the preservation of Sonoma County's rich agricultural heritage for generations to come. 707-571-8288
www.farmtrails.org
Sonoma Ecology Center
Whether expressed in premiere wines or breathtaking natural vistas, Sonoma Valley's bounty and beauty are part of a unique natural heritage. The Sonoma Ecology Center works to retain this remarkable heritage for the future. Our mission is to work with our community to enhance and preserve the ecological health of Sonoma Valley. 707-996-0712
www.sonomaecologycenter.org
Cittaslow Sonoma Valley
Sonoma, California was named the first Cittaslow in the United States on November 28, 2009.  Cittaslow, meaning "slow city," embodies the ideas of the international Slow Food organization, and extends its philosophy to a focus on quality of life issues and thoughtful attention to economy, lifestyle, and sustainable methods. Sonoma Valley joins the Cittaslow International Network of 129 towns in 29 nations around the world accredited since 1999.  707-343-6334
www.cittaslowsonomavalley.org
Sonoma Valley Chamber of Commerce
Green business is good business. The Sonoma Economic Development Partnership has three programs to support, assist, and recognize businesses in their efforts to protect the environment. 707-996-1033
www.sonomachamber.com