Sonoma on the Map, and In a Glass
Sono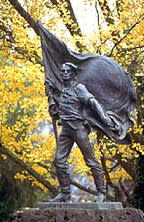 ma buzzed with activity as the nineteenth century moved toward the twentieth. Tourists discovered the town, the wine industry was born, new buildings went up, and old ones got a facelift.
Early Commerce and a Few Early Tourists
By the 1800s Sonoma's residents could buy whatever they needed around town. Shops sold dry goods, hardware, groceries, tobacco, and clothing in greater quantity than they had during the Gold Rush and Civil War years. Sonomans got their news in papers from San Francisco and from those printed in town, such as the Sonoma Index, founded in 1879 and renamed the Sonoma Index-Tribune in 1884. Schools opened to educate the children of growing families. Visitors had a number of hotels to choose from for overnight visits, and also rubbed elbows with locals at saloons and restaurants. Word was getting out that Sonoma was a great place to be.
The valley's beautiful setting also lured many people to town. Sometimes they came just to look around, while others enjoyed fishing and hunting, as well as the amenities in town. But getting to Sonoma wasn't easy in the early days.
In the 1850s travelers from San Francisco took a steamer to a landing spot on the shoreline outside of town. Then, they had to take a rocky ride in a stagecoach to get into Sonoma, and reverse the process to get home. Getting here overland from Marin or elsewhere in Sonoma County also involved a long and arduous ride on horseback or wagon. 
But people kept coming, and some of them changed Sonoma's history.
History in its Vines
Sonoma is renowned today for its wines, a tradition which goes back nearly two hundred years.
In 1824 Father José Altimira reported that about one thousand grapevines were in the ground at Mission San Francisco Solano, and a decade later the vineyard was about two hundred square yards in size. About this same time, the mission gave a grant of land to an indigenous man, known as Viviano. He planted his vineyard near where Bartholomew Park is today. General Vallejo was also a vintner and winemaker, and by 1860 was making gallons of his own wines.
Another man is credited for making Sonoma synonymous with fine vintages. He was a Hungarian immigrant named Agoston Haraszthy, whose colorful story can be explored at Buena Vista Winery in town (hint – it involves the crocodile you see in the tasting room.)
The First Winery
Haraszthy had lived in California since the early 1850s and wanted to find property to start a winery. In 1857 he purchased a plot of land about two miles from the Plaza, called Rancho Lac, which included Viviano's former vineyard property. That fall he started digging cellars into the nearby hills for his new venture, called Buena Vista.
Locals were startled at the presence of Chinese workers, whom Haraszthy hired in 1859 to work among the vines, expand the cellars and build structures for pressing and fermentation. Anti-Chinese prejudice loomed in nearby regions, but wasn't as strong in the Sonoma Valley. Haraszthy championed his workers and when his wines won awards, his confidence that the Chinese were important to the industry was rewarded. Sadly, lingering anti-Asian political sentiment common in California at the time drove many Chinese out of Sonoma Valley starting in the 1890s.
Haraszthy left the valley in 1868 and died under mysterious circumstances in Central America. But he also proved to people all over the country that Sonoma had a future in the world of wine.
An Industry Threatened
Other pioneers jumped into winemaking and formed organizations to get the new industry off the ground. But in the 1880s, a bug called Phylloxera vastatrix, which was deadly to non-native vines, ravaged vineyards all over the state, including Sonoma. Vintners had to pull out their vines and replant with stronger stock that wasn't as affected by the tiny, destructive pest. Slowly, the grapes returned and survived, and so did Sonoma's wine industry. In the 1890s Sonoma wines had rebounded and were winning prizes at fairs and competitions. 
Taking the Waters
Besides its natural wonders and the amenities which tourists could enjoy, the Valley of the Moon was also popular for something unique: hot springs.
About a mile from the Plaza is a field of geothermal, or hot springs. As early as 1848 locals advertised the value of the waters in curing all kinds of illnesses. By the 1880s men and women had turned the land around the springs into prosperous businesses.
These entrepreneurs harnessed the waters and formed them into pools, building bathhouses so visitors could change their clothes before taking the plunge. They advertised their operations all over California. Out of these early enterprises came the string of towns along Highway 12 today known as Boyes Hot Springs, Agua Caliente, and Fetters Hot Springs, and often under the collective name of "The Springs."
Getting to these towns was easy after 1879, which is when the first railroad roared into Sonoma. Trains ran down today's Spain Street, but the noise and vibration caused so much trouble that in 1890 the tracks were rebuilt a block to the north and the depot moved to the area of today's Depot Park. This building now houses the Sonoma Valley Historical Society.
By the early decades of the twentieth-century the hotels in these towns drew thousands of water-seekers, weekend tourists, and locals, who could attend concerts and dance the night away just down the road from town.
The importance of The Springs to Sonoma Valley entertainment dwindled after World War II. Today this area is filled with restaurants and businesses, and is also home to vibrant Latinx communities.
The Plaza
The centerpiece of life in Sonoma is the Plaza, an oasis of greenery, ponds, and playgrounds. But it wasn't always such a pretty place.
In the 1870s it was fenced off, and men paid fees to graze their cattle there. There was also a turntable for the railroad. A pavilion served as the city hall through the 1880s, but the Plaza was still scruffy and neglected.
In 1901, the Sonoma Valley Woman's Club started a fund to beautify the Plaza, one of many campaigns undertaken during the new century. In 1908 a newly-built city hall was dedicated, where it still stands today. The Carnegie Library, now home to the Sonoma Valley Visitors Bureau, went up in 1913.
Monuments and fountains also fill the Plaza, and decades of community progress and pride have made the Plaza even more central to life for locals and visitors.
Linking Old and New
At the turn of the twentieth century, many of California's missions and other structures from the Mexican period were falling apart and falling down. Groups of people throughout the state lobbied to save and restore these buildings, and Sonoma's mission was one of them. Renovated remnants of the past were important to local pride and tourism.
Mission San Francisco Solano was restored in 1914 and Sonoma commemorated its centennial in 1923. Over the next decades the old barracks on the Plaza also got a facelift, and many other storied historical buildings were designated California Historic Landmarks.
Sonoma's past also lived in its people. An indigenous man named Vicente (later called Vinciente) was born in Sonoma around 1788, and may have worked for General Vallejo. The Sonoma Index-Tribune newspaper published an article about him and his grandchildren in 1891, and he died at nearly one hundred fourteen years old in 1902.          
Military men like Joseph Hooker and William Tecumseh Sherman also left their mark in town, well before they both served as generals in the Civil War.
As the new century progressed, Sonoma drew more people to its borders for entertainment, commerce, or to make a new home.