Zoomsgiving Sonoma Style:
How to bring Sonoma Valley to your Thanksgiving celebration, whether virtual or otherwise
Sonoma Valley, CA --- Thanksgiving is going to be a lot different this year. COVID-19 has been disrupting travel plans since the spring and will no doubt change a lot of traditional holiday plans. If you can't be with your favorite people in your favorite place this Thanksgiving, why not bring that place to you? It's easy to bring Sonoma Valley to your holiday table via Zoom this year.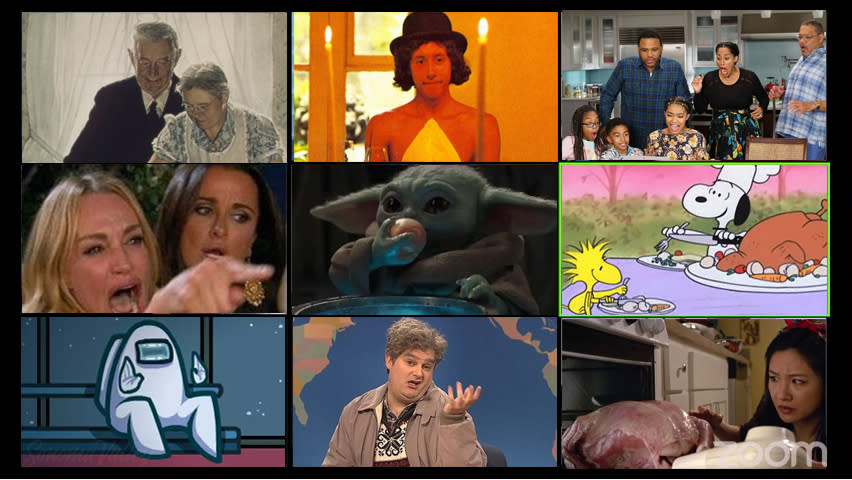 Sonoma-based JAK W, which offers sustainable design for the modern world through their cute shop just off the Plaza, has everything you need for a festive tablescape. Their modern design elements put wine country chic on the table: Rialto Tulip Glasses, in a bright saffron color, add a pop of seasonal color and look fantastic with the Parklaan Napkins.
A Pumpkin Spice Old Fashioned Cocktail (recipe below) would be extra delicious in one of those Tulip glasses. Prohibition Spirits' seasonal Pumpkin Spice Brandy Liqueur is a great addition to their lineup of small batch, artisan spirits. Bottles can be shipped to your door in time to help you get ready for the family Zoom call. Explore all their unique products online. Hanson of Sonoma's organic Boysenberry Vodka is only made once a year and is available now until it is gone. The sweet and tart berry flavor and bright pink color make it perfect for a holiday toast (recipe below).
If you don't feel like cooking, the El Dorado Kitchen is offering a takeaway Thanksgiving feast. The three-course menu includes a seasonal salad, your choice of turkey or salmon and an apple cranberry crumble for dessert. Place your order by Friday, November 20 at 5:00 p.m. Wine can also be purchased when ordering. If you can make it to Sonoma, the Depot Hotel is serving Thanksgiving dinner in private poolside cabanas. The four-course menu includes soup and salad, a choice of turkey, salmon, pork chops or pasta and dessert.
Speaking of wine, Sonoma Valley has some of the best in the world and many favorites can be shipped to you in time for the holidays. Benzinger Family Winery and Imagery Estate Winery are offering their 45-minute Holiday Virtual Private Tasting with Jill Benzinger. From the comfort of your home you can join Jill to taste three wines from your choice of winery. The wines will be shipped to your home prior to the tasting event.
"Imagery's 2018 White Burgundy can serve as the perfect pre-dinner glass of vino! This vintage presents pineapple, white pear and enchanting floral notes on the nose," said Benzinger. "Mouthwatering acidity highlights fresh citrus and white peach flavors boasting a stunningly crisp texture and a clean finish, readying your palate for your Thanksgiving feast."
Highway 12 Winery is sharing some great food and wine pairings for your holiday menu. First, a classic San Francisco cioppino (recipe below).
"Here's the real San Francisco treat! Dungeness crab season starts right around Thanksgiving and it makes a delightful holiday meal," said Cristina Bisio with Highway 12 Winery. "We recommend serving it with our 2018 Highway 12 Chardonnay or 2017 Highway 12 Pinot Noir."
They also suggest pairing your traditional turkey dinner with the 2019 Highway 12 Sauvignon Blanc or the 2015 Highway 12 Reserve Cabernet Franc or 2016 Highway 12 Reserve Syrah. All of which can be ordered in advance of your family's feast.
For more information on how to bring Sonoma Valley to you this holiday season, visit SonomaValley.com.
About Sonoma Valley, California
Located in the heart of Northern California wine country, Sonoma Valley is a 17-mile long area within Sonoma County, and which encompasses the city of Sonoma and the villages of Carneros, The Springs, Glen Ellen, and Kenwood. The birthplace of the state of California, as well as the state's wine industry, the year-round destination is home to more than 100 premium wineries, 85 percent of which are family owned. Follow us on Instagram at @sonoma_valley, and on Facebook at @ExperienceSonomaValley.
Note to editors: Photos of many of the businesses mentioned are available at https://sonomavalley.smugmug.com/. If you need something else, let us know and we will do our best to get it for you.
# # #

Pumpkin Spice Old Fashioned (courtesy Prohibition Spirits)
- 2 oz Prohibition Spirits Pumpkin Spice Brandy Liqueur
- 2 dashes of Bitter Brothers Aromatic Bitters
- 1 orange slice
- 1 dash of club soda (optional)
- Cinnamon stick
In a rocks glass, muddle orange slice and bitters. And Brandy Liqueur and ice (preferably an oversized cube) and stir well. Optional splash of club soda should be lightly stirred into cocktail. Garnish with cinnamon stick and enjoy!
Hanson Pomegranate Fizz (courtesy Hanson of Sonoma)
- 2 oz Hanson Organic Boysenberry Vodka
- 1 oz Pomegranate Juice
- 3/4 oz Simple Syrup
- Top with Rose
- Fresh Pomegranates

Pour Hanson Vodka, Simple Syrup and Pomegranate Juice into a shaker and fill with ice. Shake and strain into a flute glass. Top with Rose and fresh Pomegranates.
Nonno's Traditional SF Cioppino (courtesy Highway 12 Wines)
- 1/2 cup butter
- 1 tablespoon olive oil
- 1 onion, chopped
- 1 fennel bulb, thinly sliced
- 4 cloves garlic, minced
- 1/2 bunch fresh parsley, chopped
- 1 tablespoon dried basil
- 1 teaspoon kosher salt
-  1/2 teaspoon dried thyme
- 1/2 teaspoon dried oregano
- 1/2 teaspoon crushed red pepper flakes
- 1 1/2 cups white wine (optional - can replace with additional fish or chicken stock)
- 1 (28 ounce) can crushed tomatoes
- 1 (14.5 ounce) can diced tomatoes
- 5 cups fish or seafood stock*
- 2 bay leaves
- 1 pound small clams
- 1 pound mussels, scrubbed and debearded
- 2 pounds crab (we used 1 whole cooked Dungeness crab, with its legs removed from its body)
- 1 pound uncooked large shrimp, peeled and deveined
- 1 pound bay scallops
- 1/2 pound cod fillet, cut into large chunks (or other firm-fleshed fish like halibut)
- Fresh basil and parsley, chopped, for garnish
Directions:
Heat the butter and olive oil over medium heat in a large stock pot, then add the onion, fennel, garlic, parsley, sauteing until the onions are soft, about 10 minutes.  Add the garlic, basil, salt, thyme, oregano, and red pepper flakes and saute 2 minutes longer.
Add the white wine, crushed and diced tomatoes, fish stock, and bay leaves, then cover and reduce the heat to medium-low.  Simmer for 30 minutes so the flavors can blend.  While the sauce simmers, prepare the crab by removing the crab legs from the body (if not already done for you) and using a nutcracker to crack the shells (leave the meat in the shell) so that the meat can be easily removed once the cioppino is served.
Increase the heat to medium and add the clams and mussels to the broth and cook for 5 minutes until they start to open.  Then add the crab legs and cook for another minute, followed by the shrimp and scallops.  Finally, lay the chunks of cod on top of the broth and cover and cook for 3-5 minutes until the mussels and clams are open, the shrimp curl and the scallops are just firm.
Ladle the cioppino into large bowls garnish with chopped fresh parsley and basil.  Serve with warm, crusty sourdough bread!  Have plenty of napkins, extra bowls for shells, and nutcrackers and tiny forks on hand for the crab. 
NOTE
* You can replace all or part of the fish or seafood stock with the same amount of chicken or vegetable stock along with a small bottle of clam juice instead.