Member Marketing Opportunities

Hello, Members!
Sonoma Valley Visitors Bureau has multiple programs for you to get the word out about your business. Use the links below to find out what we are doing, or send an email to info@sonomavalley.com and ask us how to get involved.
Current opportunities:
2022-2023 Visitors Guide
Coffee Chat - Sonoma Plaza - October 8
Holiday Gift Guide--Coming Soon!
Enhanced Marketing Opportunities - Ongoing
Lighting of the Plaza Sponsorship -
Enhanced Marketing Opportunities 2021
2022-2023 Visitors Guide Advertising & Media Kit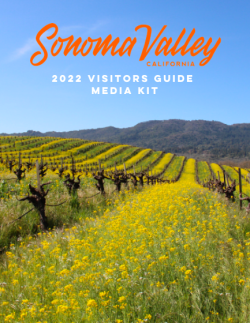 Quality printed materials make powerful impressions, and research shows that a printed visitor guide helps drive visitation. Created with thoughtful content and engaging photography, the Sonoma Valley Visitors Guide is a great way to showcase the personality and purpose of your business, with a wide-range of marketing and advertisement offerings to fit your needs and budget. According to industry research on guides:
--85% of travelers were influenced to visit after reading a visitor guide
--Readers retain information from actual, tactile visitors guides: 90% of readers remembered reading them in hand vs. online readers at 67%
--The ROI for every guide distributed was $48:1 in destination spending
Download the media kit here, then contact lori@sonomavalley.com to get started.
Coffee chat!
Sonoma area businesses - come join the Sonoma Valley Visitors Bureau for coffee, pastries and catch-up
Friday, October 8
9:00 AM
Highway 12 Winery at The Barn Tasting Room
27 E Napa St, Suite S
Sonoma, CA 95476
This is an informal chance to meet with the Sonoma Valley Visitors Bureau and fellow hospitality businesses and ask questions and catch up. This will be outside and is informal (it is a chat after all) so no Powerpoints, no fancy speeches... just come and get some coffee and hear what's going on and ask your questions.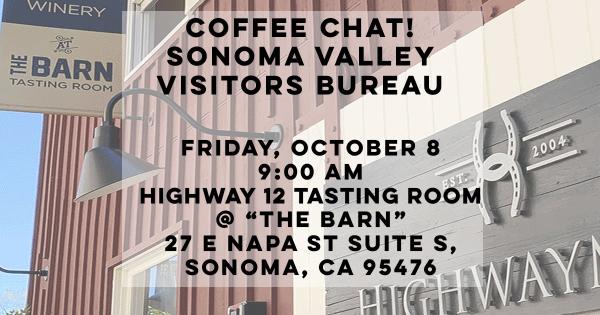 Enhanced Member Marketing Opportunities
Go beyond standard marketing programs with our easy to use marketing offers. Get in front of thousands of potential visitors, with minimal cost and easy to implement programs. (All we need is a photo.) Dedicated email sponsorships, boosted posts on social media and other ways to get your business in front of visitors. Download the Enhanced Marketing Opportunities information now, or contact lori@sonomavalley.com to get started.

On Saturday, November 20 we will be celebrating the annual Lighting of the Plaza with thousands of local residents and visitors as we illuminate the historic downtown with hundreds of thousands of lights and enjoy music, food, cookies, cocoa, cider and even some local libations.
We invite you to join the Sonoma Tourism Improvement District, the City of Sonoma and local businesses like B.R. Cohn Winery, The Lodge at Sonoma, Sparc and others and sponsor this amazing event.
The Lighting of the Plaza is the official kick-off to the Holidays in Sonoma Valley as we all count-down and light the towering palm tree that stands over the illuminated Plaza. 
Sponsorships start at $500 and include the chance to be a title sponsor - complete with your logo on the official, reusable Sustainable Party Cup. This keepsake will be used for wine and beer sales and is sure to be used for years as we continue our journey to more environmentally friendly city celebrations.
Download the sponsorship package packet here.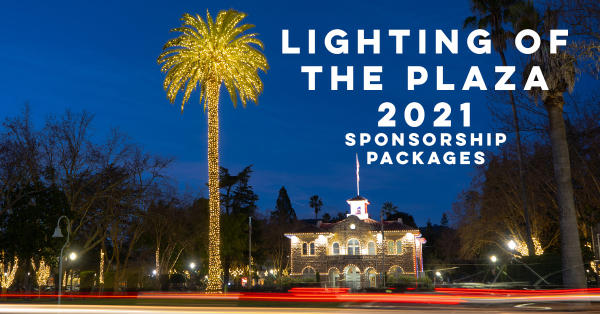 Please let us know which one interests you and we will make sure to include you.
Please note that the TITLE SPONSOR is limited - we can only accept one sponsor for the limited edition Sustainable Party Cups. 
Sponsorship categories:
Sponsorship packages include:  

 Standard - $500  
Link and logo on website  
Logo on event banner  
Social media mentions 
 
Premium -  $2500  
Link and logo on website  
Logo on event banner  
Social media mentions  
Premium logo placement on materials  
Logo/link on emails to locals and trade / consumers  
Inclusion in social media video promoting event and "Valley of Lights"   
Logo inclusion in broadcast and online video of the event  
Inclusion in press releases 
  
Presenting Sponsor – $5000  
Link and logo on website  
Logo on event banner  
Logo on on-site signage by the lights on the Plaza   
Social media mentions  
Presenting Sponsor logo placement on materials  
Logo/link on emails to locals and trade / consumers  
Inclusion in social media video promoting event and "Valley of Lights"   
Inclusion in broadcast and online video of the event, including LOGO and voice over mention  
Inclusion in press releases  
Live read from stage during event: "Ex… Brought to you by YOUR Winery, where premium wines are just the beginning. Mention Lighting of the Plaza for free wine club membership during month of December." 
  
Title Sponsor $15000 – THE MAGNUM SPONSOR  
Link and logo on website  
Logo on event banner  
Logo on on-site signage by the lights on the Plaza   
Social media mentions  
Presenting Sponsor logo placement on materials  
Logo/link on emails to locals and trade / consumers  
Inclusion in social media video promoting event and "Valley of Lights"   
Inclusion in broadcast and online video of the event, including LOGO and voice over mention  
Inclusion in press releases  
Live read from stage during event: "Ex… Brought to you by YOUR Winery, where premium wines are just the beginning. Mention Lighting of the Plaza for free wine club membership during month of December."  
YOUR Logo on the Official Wine and Beer Reusable Sustainable Cup – this is a high-quality keepsake that will be used for years by attendees. Sponsor to receive 50 cups for their own use.  
NOTE: Wine and beer will only be available in these sustainable, reusable cups. This is the OFFICIAL cup of the Sonoma Lighting of the Plaza.  
Name in title of "Holidays in Sonoma, brought to you by Sonoma Tourism Improvement District, City of Sonoma and YOUR COMPANY NAME"  
Logo, link and content block on marketing emails to 30,000 travelers  
 "This Week in Sonoma" or "What's New in Sonoma" or "Sonoma Live!" video shot at your business location