By: Weekend Sherpa
Looking for a secret spot in Sonoma Valley for a picnic, a walk or just a place to enjoy some quiet among the nature of California's wine country?
Sonoma Valley's miles of outdoor adventures include less-traveled trails well worth a wander. Here are 3 "secret" recommendations from our friends at Weekend Sherpa.
Bartholomew Park
1695 Castle Road
Sonoma, CA 95476
Fairytrails do come true! Not far from Sonoma's historic plaza, Bartholomew Estate Winery is surrounded by open space with moderate to more challenging hiking trails that are also dog-friendly! Explore the 3-mile trail that winds beside a stream, weaves through oaks, madrones, and redwoods, and crests at stunning views across the valley all the way to San Francisco Bay. Afterwards, visit Bartholomew's tasting room, check out their incredible plein air art gallery, and take some wine out for a picnic at the estate's oak-tree-dotted picnic ground or in the park's beautiful wine garden. Valley to vineyard views, a vino-and-vella pairing — Vive Sonoma!
Dogs are welcome on leash, groups of eight or more require a reservation. 
Bonus tip: the Sonoma bike path is nearby, so Bart Park is a good option for a lunch stop while out exploring Sonoma Valley by bicycle.
Sonoma Garden Park
19996 7th St. East,
Sonoma CA, 95476

Tucked off a bucolic street on Sonoma's east side, the Saturday Harvest Market at Sonoma Garden Park (every Saturday from 9 a.m. to noon) is a charmer. Friendly people, super fresh produce and eggs, olive oil, beautiful gardens, and free-range chickens make this a delightful place to explore between wineries. Wander the trails here, see what's blooming, and be sure to visit the chickens! You can also check out their calendar of events.
The 6.1-acre park includes:
Harvest Market open Saturdays during the market season March-October. Enjoy fresh produce, eggs, and flowers grown sustainably onsite.
Plant Nursery with the capacity to grow 40,000 plants. Native plants, vegetable starts, flowers and more are all available/
Youth educational programs including EnviroLeader Internships, K-12 Field trips, and Summer Science Camp to encourage K-12 learning.
Walking trails including interactive educational displays. Enjoy the butterfly garden, fig forest, and check out our straw bale barn. Just off the beaten track you'll find our chicken coop.
Sonoma Botanical Garden
12841 Sonoma Highway
Glen Ellen CA, 95442
707-996-3166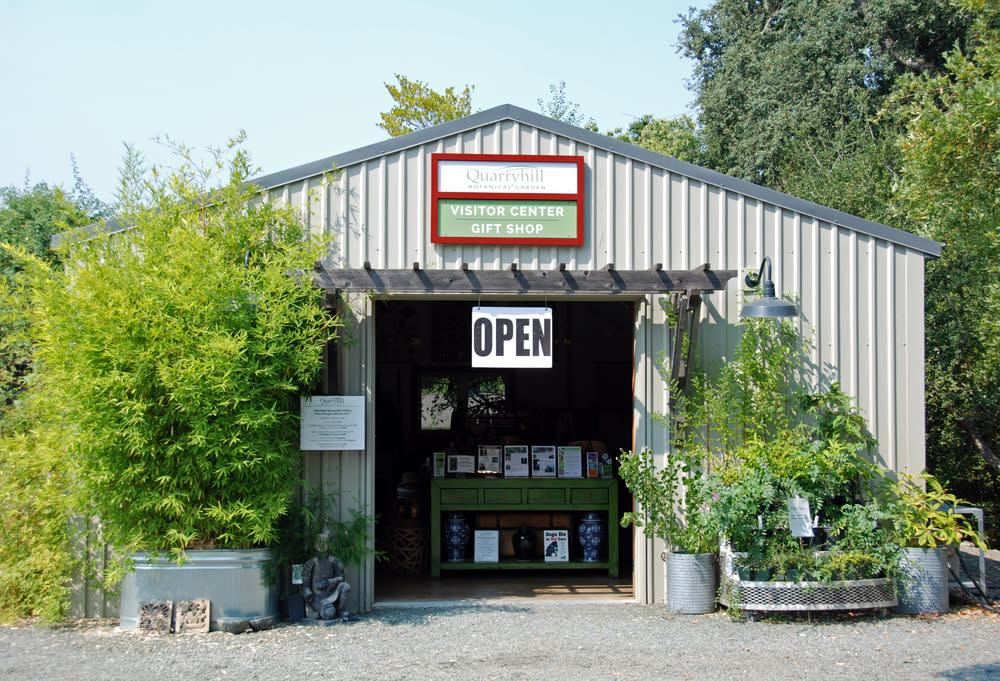 Set on the western slope of Sonoma Valley's Mayacamas Mountains, Quarryhill Botanical Garden flies under the radar as most people zip by on their way to the next tasting room. And that means they're missing out on one of the Bay Area's best displays of flora, not to mention a brilliant place for a quiet picnic! Flowering shrubs, exotic shade trees, tranquil ponds, and even a few waterfalls are just part of what make Quarryhill memorable. Get a map at the visitor center and stroll the 2 miles of winding gravel paths. The garden has been grown from seeds collected from the wilds of China, Tibet, and other parts of the Himalayas. Don't miss the katsura tree, which gives off a cotton-candy scent on warm days. You'll also find the beautiful Dawn Redwood giving shade to picnic tables by the upper pond. For the best view, walk up to the Himalayan prayer flags on the eastern edge of the park, where you'll look out across Sonoma Valley and its acres of vineyards as the prayer flags rustle in the wind
On your way out stop in the small, well-appointed gift shop for an eclectic collection of items from Sonoma Valley and beyond.