Craft Beer + Artisan Spirits
Sonoma Valley: More than Wine
Sonoma Valley may be the birthplace of California winemaking (Buena Vista Winery, founded in 1857) but it is also where the American craft-beer renaissance started, when Jack McAuliffe opened New Albion Brewing Company in 1976 on the outskirts of the City of Sonoma. New Albion influenced Sierra Nevada Brewing Company and Mendocino Brewing Company and the rest, as they say, is history. (Delicious, quaffable history.)
Sonoma Valley now includes craft breweries like Sonoma Springs Brewing Company in the City of Sonoma and Palooza Brewery and Gastropub, which is the center of the social scene in the quiet village of Kenwood. Distilleries include Prohibition Spirits in the Cornerstone Gardens complex (limoncello, gin, brandy, whiskey and rum) and Hanson of Sonoma, offering their take on vodkas derived from grapes at their tasting lounge set among the vines.
Click the image below to download the Sonoma County Beer & Spirits Map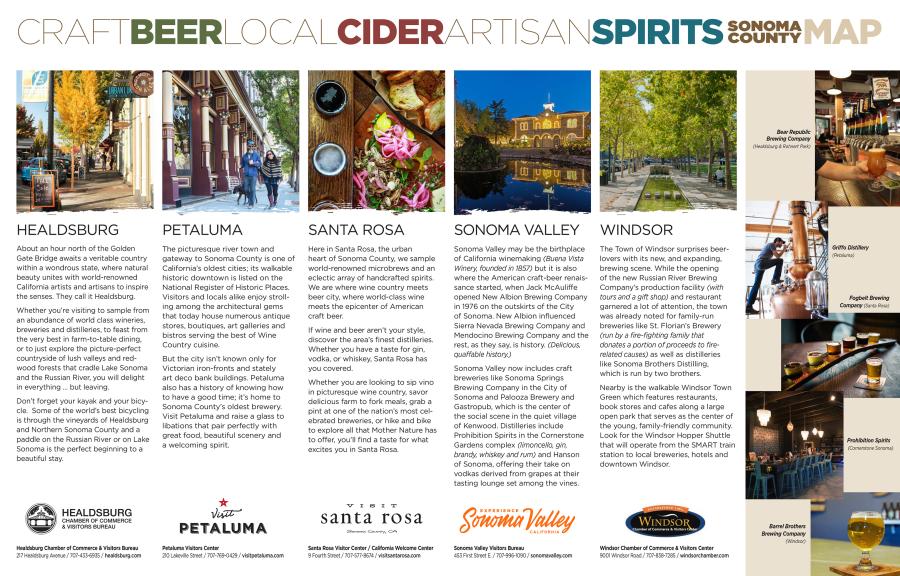 view these Spirits and Beer venues in Sonoma Valley:
22985 Burndale Road

(707) 343-1805
Hanson of Sonoma Distillery and Tasting Room is located the heart of the Carneros Region. Their unique vodka is distilled from Organically Farmed Grapes. Each of their vodka expressions are infused with hand cut, Certified Organic Fruits and Vegetables. Come meet the family and…
452 1st ST E

(707) 933-7507
Visit a boutique micro-distillery tasting room & bar shop in the heart of Sonoma Valley that's crafting award-winning wine country inspired spirits including Limoncello di Sonoma, traditional Cognac-style brandies and a variety of delicious gins, liqueurs, bottled cocktails and…
19449 Riverside Drive

(707) 938-7422
Our taproom is a work of art, blending the charm of a German beer hall with Sonoma County wine country style. With over twenty fresh beers on tap, the taproom serves as a great location to plant oneself to try all of our beers. Our award winning ales include Sonoma Springs…
8910 Sonoma Highway

(707) 833-4000
Palooza Brewery and Gastropub is a neighborhood gathering place, a relaxed and friendly environment where wonderfully flavored, thoughtfully sourced food and drinks bring friends and family together. A unique wine country restaurant with 16 craft beers on tap, a great selection…
691 Broadway

707-935-9100
Rustic Tavern open for lunch, dinner, and late night. Featuring fresh, local draft beers (16) seasonally, local wines, full service bar. Both locations feature beer gardens, live music, group dining and special events.
Looking for delicious cocktail recipes? View these recommendations: