As the birthplace of both California wine country and the state of California, the town of Sonoma offers a lot of history that can be enjoyed in a short amount of time. 
Here's a fun walking tour to four historic sites in Sonoma. It's about two miles round trip, which can also be an easy bicycle ride.
Start on the northeast edge of the Sonoma Plaza, at the corner of East Spain Street and First Street West:
1. Mission San Francisco Solano de Sonoma
Founded July 4, 1823, this was the last mission built in California. Now part of Sonoma State Historic Park, it offers exhibits on mission life, religious paintings, and beautiful framed watercolors of all the California missions. An altar decorated in the style of the mission era fills one end of the chapel. Admission is $3, which includes same-day entry to other state park sites.
Moving on: Leaving the mission, turn right and go west on Spain Street, passing the Sonoma Barracks, the Toscano Hotel, and an open courtyard with signs explaining local history (all of which are worth exploring). Walk a little over two blocks to Third Street West and turn right onto the long, tree-shaded driveway leading to General Vallejo's home.
2. General Mariano Guadalupe Vallejo's Home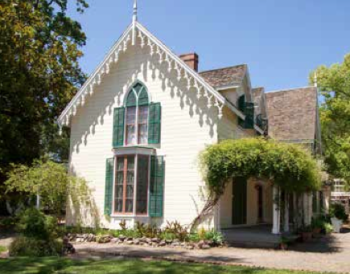 The beautiful two-story, Gothic-style, Victorian house in the center of this property was imported from New England in 1851. A half-timbered building at the entrance serves as a museum, with fascinating displays of photos and everyday items, including the family carriage. The main house and several outbuildings are decorated as if the family and staff have just stepped out, and a printed guide sheet makes it easy to explore the property on your own. Admission is $3, but a receipt from the mission gives you same-day entry here.
Moving on: Go part-way back up the long driveway, and turn left (east) on the paved hiking/biking trail. After you cross First Street West, you can't miss the three train cars on the right, which are parked behind the next destination
This small gem of a museum by the Sonoma Valley Historical Society offers permanent and temporary exhibits exploring Sonoma's rich and vibrant history. Housed in an authentic train depot, it displays just a portion of the society's rich collection of local artifacts. It includes a permanent exhibit of the history of Sonoma's railroads and hosts an annual model train show in December. Free admission; donations welcome. Note: Only open 1-4 p.m. Saturday and Sunday. You might catch some locals playing Pétanque at the courts near the train cars outside.
Moving on: Continue east on the hiking/biking trail to where it ends on Fourth Street East, and turn right.
4. Sebastiani Vineyards & Winery
Founded in 1904, this winery offers a lively and casual tasting bar inside a historic high-ceilinged stone building. You can purchase crackers, cheese, and other gourmet nibbles, and the shady circular courtyard out front is lined with tables and chairs, making it a perfect place to relax, eat, and sip. Don't miss the barrel room, with its beautifully carved antique redwood barrels. A variety of other tour and tasting experiences are offered.
Moving on: From the winery, go left (south) on Fourth Street East and then right (west) on East Spain Street; it's three blocks back to the starting point.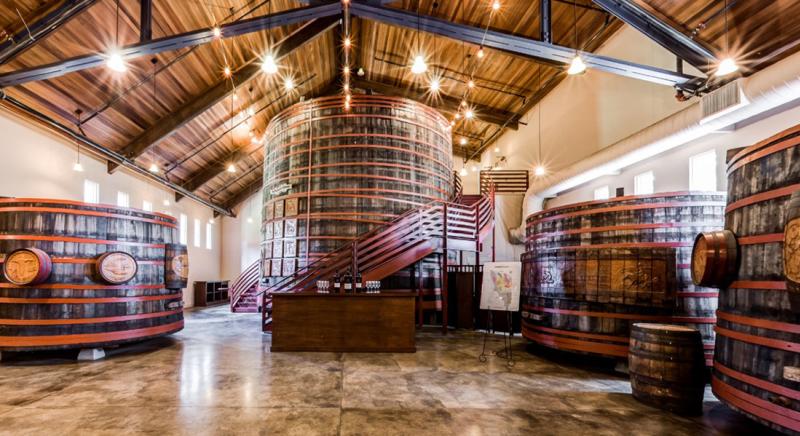 Other possibilities
The eight-acre Sonoma Plaza includes a monument to the Raising of the Bear Flag on June 14, 1846 (declaring Sonoma a short-lived independent republic) and a statue of General Vallejo sitting on a park bench (a popular spot for selfies). Restaurants, tasting rooms, and intriguing stores surround the Plaza, offering something for everyone.
About two miles east of the Plaza, Buena Vista Winery is California's oldest premium winery, and about three miles southeast of Sonoma Plaza Gundlach Bundschu Winery is California's oldest family-owned winery.
And about nine miles northwest of the Plaza , Jack London State Historic Park offers insights into the celebrated author's life on his beloved Beauty Ranch, plus 29 miles of hiking trails.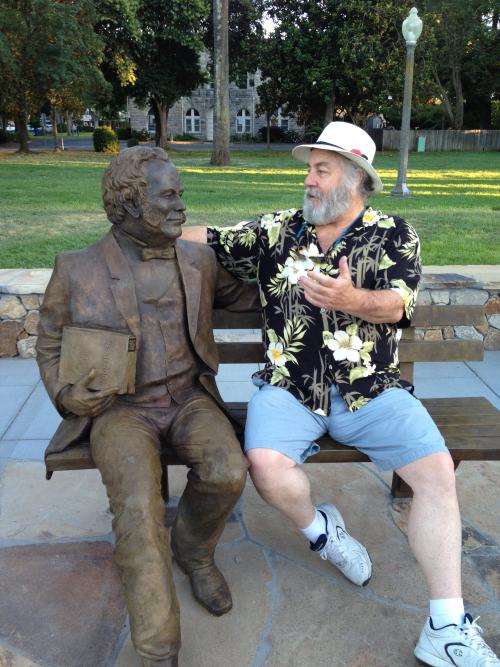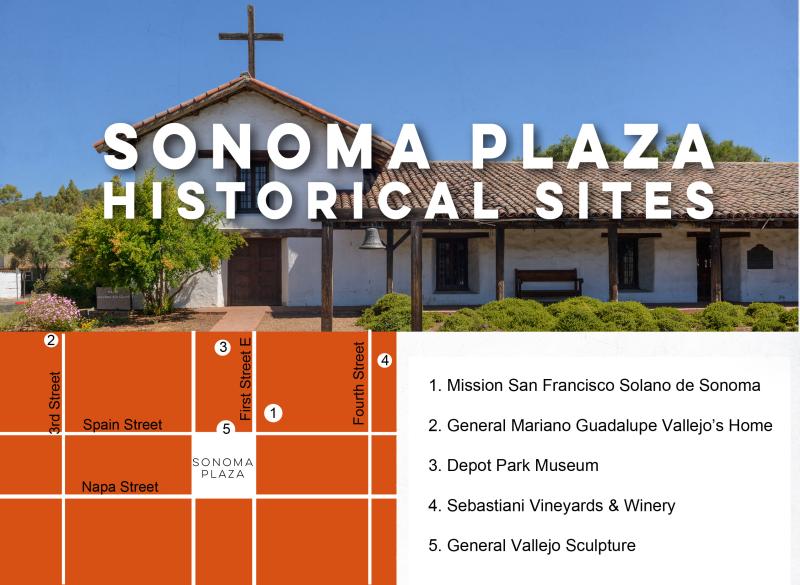 By Patricia Lynn Henley