While grapevines carpet the floor of Sonoma Valley, surrounded by California's oak woodlands and redwoods, it's always worth a trip below ground to see what lies beneath Sonoma's famous terroirs and explore the region's wine caves. 
Wine caves serve to keep wine cool during the heat of summer and warm when temperatures dip in winter, an innovation from the days before electricity and refrigeration. This natural temperature equilibrium allows for a long, steady maturation process, and keeps the bottles protected from damaging sunlight. 
Most of the cellars below are open year round, while others are part of tours and still others are reservable for special events like weddings and corporate meetings. If you do want to visit a wine cellar, it is always wise to call ahead as during harvest the caves may not be accessible--they are after all working parts of a winery and the winemakers are busy moving grapes, barrels and freshly-pressed juice!
Since 1980, the Benziger family has occupied the old Wegener Ranch, at the base of Sonoma Mountain, just outside of Glen Ellen. Today, it's is this idyllic organic and biodynamic farm boasting some of the most extensive underground wine cellars in Sonoma County. You can get a tour of the cellars on their Biodynamic Vineyard Tram Tour or their Tribute Estate Tours--named USA Today's "10 Best Readers' Choice" Awards of 2019! Call ahead for reservations.
Buena Vista Winery is the birthplace of the California wine movement, founded in 1857 by Count Agoston Haraszthy. Just five minutes from Sonoma's charming plaza, a visit to the historic Buena Vista Winery can include the chance to see the caves that were hand-dug out of the mountains more than 150 years ago. Be on the lookout for The Count himself, who is rumored to still inhabit the winery. Sometimes he even gives tours...
Located in the heart of Sonoma Valley in Kenwood, Deerfield Ranch Winery not only has a wine cave, but the entire tasting room is part of the large cave complex dug out of the side of the hills that flank the valley. A visit can also include a tour of the crush pad and barrels while tasting is in the furnished cave. No appointments necessary for groups fewer than eight people.
For over a century, five generations of the Kunde family have farmed this 1,800 acre estate in Sonoma Valley. Perched on a hillside above Kenwood with gorgeous views of the valley, Kunde's vineyards are just as cool to visit as their cellars. Ask in the tasting room about the cave tours that include guided tastings and the chance to try barrel samples.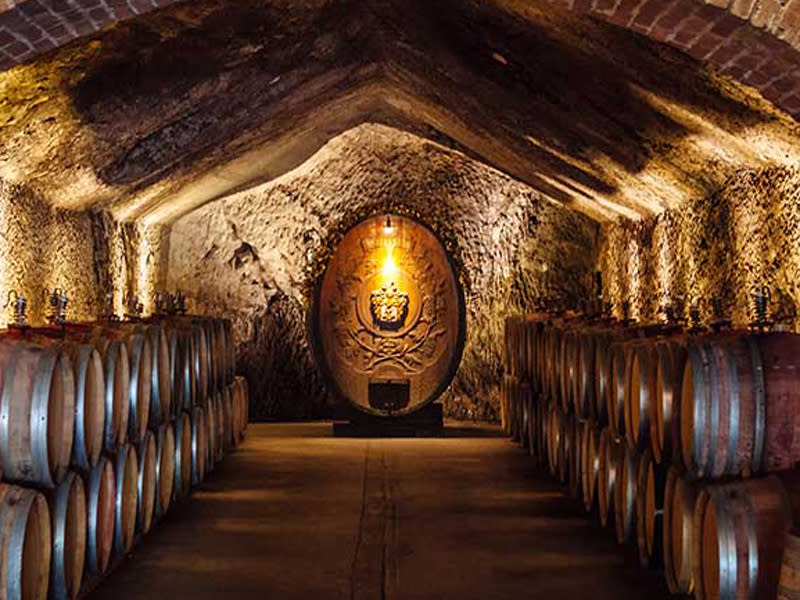 See the winery listing for a full list of wineries and tasting rooms in Sonoma Valley, and call ahead to see if there are wine caves open for exploration.