"Drink what you like," may seem like a great rule for wine and food pairing, but any seasoned Sonoma wine pro will tell you that the right pairing does make a difference and it can really maximize your enjoyment of both food and drink. And by considering a few backyard barbecue wine-pairing basics, you can apply the rules to almost anything you want to serve, even inside during the winter months.
Essentially, there are two kinds of wine and food combinations: complementary pairings and contrasting pairings.
Complementary pairings match similar textures and flavors in wine with similar textures and flavors in food. Zinfandel and barbecued ribs are a great example. The rich spiciness of the Zin pairs perfectly with the rich spiciness of the barbecue sauce. While both may seem heavy on their own, there's a textural perfection when you enjoy them together.
Contrasting pairings blend different textures and flavors to create a magical, balanced harmony of flavors. A great example? Chicken satay skewers and Riesling. The creamy nuttiness and gentle spices of the satay paired alongside the sweet and tangy flavors of Riesling strike a gorgeous symphony of flavors on the palate.
When serving wines outside, temperature control is everything. Whites and rosés should be refrigerated and served cold, and it's nice to chill down a Pinot or light-bodied reds for about half an hour before serving. Make sure your reds are left in the shade or chill them in the cooler for a few minutes to bring them back to cellar temperature.
Haven't planned your menu yet but want to buy something that goes with everything? The best bet is to select a bottle of a cool and quaffable rosé, ingredients for a light and fresh starter cocktail, or a medium-bodied red like a Pinot Noir—one of the most diverse and food-friendly of all grape varietals. Bonus points if you serve them at the right temperature--a cool 55 degrees!
Here are a few guidelines for pairing favorite barbecue dishes with our local wines and spirits:
| | | |
| --- | --- | --- |
| Favorite Barbecue Dishes | Ideal Wines | A Few Suggestions |
| Starters: chips and dips, cheese plates, olives | Sauvignon Blanc, Albarino, Rosé, Sparkling Wines, Light & Fresh Cocktails | Gloria Ferrer Estate Brut |
| Potato salad | Chardonnay | Buena Vista "Jovida's Chardonnay" Sonoma Coast |
| Pasta salad or antipasto | Rosé | Bedrock "Ode to Lulu" Rosé California |
| Grilled chicken, pork chops, hotdogs or veggie burgers | Rosé, Pinot Noir, Grenache | Three Sticks "PFV Estate" Pinot Noir Sonoma Coast |
| Burgers & Steaks | Cabernet Sauvignon, Merlot | MacLaren "Samantha's Vineyard Syrah" Russian River |
| Barbecued Ribs | Zinfandel, Syrah | Bedrock Old-Vine Zinfandel California |
| Lemon Meringue Pie, Blueberry or Raspberry Pie | Limoncello | Prohibition Spirits Limoncello di Sonoma |
Since these are only a handful of examples to guide you through the pairing process for your next barbecue, we encourage you to experiment a bit—with Sonoma wines and spirits, of course—and pay attention to what works for you and what doesn't. Be sure to contact your favorite winery or distillery and tell them your preferences, and they'll be happy to share their suggestions to make your next barbecue wine and food pairing even more memorable.
In the meantime, please enjoy this refreshing spritzer recipe from Prohibition Spirits below—it's a great way to kick off the festivities. Happy grilling!
Sonoma Spritz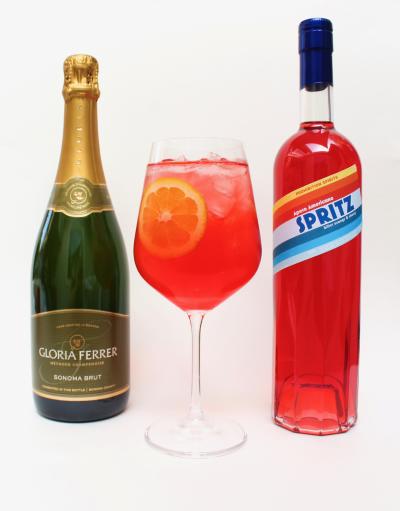 Ingredients:
3 oz Gloria Ferrer Brut sparkling wine
2 oz Apero Americano, Spritz
1 oz club soda
orange slice
Directions: 
In a large wine glass filled with ice, combine Gloria Ferrer Brut and Spritz Apero Americano. Top with club soda and garnish with an orange slice. The Sonoma Spritz is a sunny, bright aperitivo that is a happy balance between bitter and sweet.